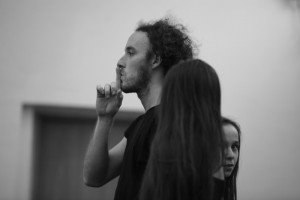 Manuel Ronda was born in Italy (Genoa) in 1977, where he studied Industrial Design at the University of Architecture. He then attended in 1999 the modern dance theatre school in Amsterdam. He is a theatre performer.
As an actor he worked for the children's theatre Teatro del Piccione in Genoa for different years and for Lindsay Kemp, in Rome. After meeting Andre Gingras in the year 2000 he participated in The Lindenmayer System and, the solo CYP17, performed in several venues throughout the world. After joining for different creations Charleroi/Danses Plan-K, directed by Frederic Flamand, he has been collaborating with Angelique Wilkie in the performance Zeropoint. He took then part of UltimaVez/Wim Vandekeybus participating and touring the creations of Puur, Spiegel, Menske and the long movie HereAfter. As a dramaturg he assisted the choreographer director Elena Fokina for Pristan in Mexico and Bielovodie in Moscow. For Klaus Jurgens he performed in Asa Nisi Masa and in collaboration with Kenneth Flak he has been creating 2Halves, premiered in Den Haag for the CaDance Festival. In 2012 he collaborated with the RootLessRoot Dance Company in Athens for the production of Kireru, premiered at the Onassis Cultural Center. In 2013 he took part as an actor in German Jauregui's creation of Confession, premiered at the Tanzhaus in Zurich. In 2014 he joined again UltimaVez/ Wim vandekeybus for the creation of Talk to the demon, premiered in Prague.
Manuel lives in Bruxelles.