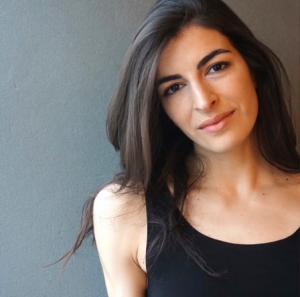 Canadian dancer Dorotea Saykaly is currently working with the Goteborg Danskompani since 2014. Since joining the company, she has worked with choreographers Ina Christel Johannessen, Michael Keegan-Dolan, Marina Mascarell, Saburo Teshigawara and Alan Lucien Oyen. She has also performed works by Sidi-Larbi Cherkaoui, Hiroaki Humeda, Ohad Naharin and Sharon Eyal.
Prior to moving to Sweden, she was with Compagnie Marie Chouinard from 2006 to 2014. Touring internationally with the company, she performed lead roles such as Marie Chouinard's "Prélude à l'après midi d'un faune" and "Orpheus and Eurydice". While in Montreal, Dorotea also experimented with the mediums of screen dance and installation work. She co-created, choreographed and performed in the screen dance films "PAINTED" (2012) and "Brief Candle" (2013) which were featured in international film festivals such as Dance Camera West in LA, Cinedans in Amsterdam, Dance on Camera in NY and Festival du Nouveau Cinema in Montreal. Her installation "In A Box" was created for and presented in the Harlem Arts Factory Fest in New York City in 2013.
She recently choreographed her first solo for the stage entitled "UNraveling" which was present- ed in Goteborg in May 2016 at 3Vaningen. It was recently awarded the AUDIENCE PRIZE at the Zawirowania Choreographic Competition in Warsaw November 2016.
She recently premiered her piece "Try Not To Spill", a collaboration between herself and Arika Yamada, within the structure of the Goteborg Danskompani for the program NUDANS 2017. The piece was created on graduating student of the Royal Swedish and Balletakademie in Stockholm.