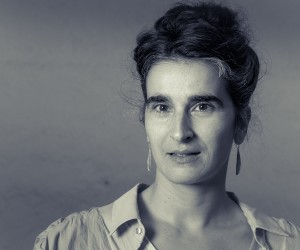 Rosalba Torres Guerrero is French-Spanish-Belgian, born in Switerland in 1974.
After studies in the Geneva Conservatory and the CNDC in Angers, she began her carrier in 1995 with Philippe Decouflé with 'Decodex' and in 1997 with Ismaël Ivo in Weimar in 'Medeamaterial'.
From 1997 to 2005, she has joined the Rosas company of Anne-Teresa de Keersmaeker for the creations of 'Drumming', 'I said I', 'In real time', 'Rain', ' April me', ' Bitches Brew/Tacoma Narrows', 'Kassandra' and 'Raga for a rainy season/Love supreme', and the repertory of 'Woud', 'Achterland' and 'Mozart/ Concert arias-un moto di gioia'.
From 2005 to 2015, she joined Les Ballets C. de la B. of Alain Platel for the creations of 'VSPRS', 'Pitié!', 'Out of context', 'C(h)oeurs'.
'Je sens le beat qui monte en moi' of Yann Le Quellec is her first film experience, besides the dance films.
In 2011 she created 'Pénombre', a solo dance-image with the french video-artist Lucas Racasse. Then followed collaborations with theater directors: 'Die Troerinnen', 'Die Rasenden' of Karin Beier in the role of Kassandra, two operas, 'Lulu' and 'Don Giovanni' and the play 'Phèdre(s)' with the polish director Krzysztof Warlikowski.
Together with Koen Augustijnen and Hildegard Devuyst she directed 'Badke', a dance performance for ten palestinian dancers.