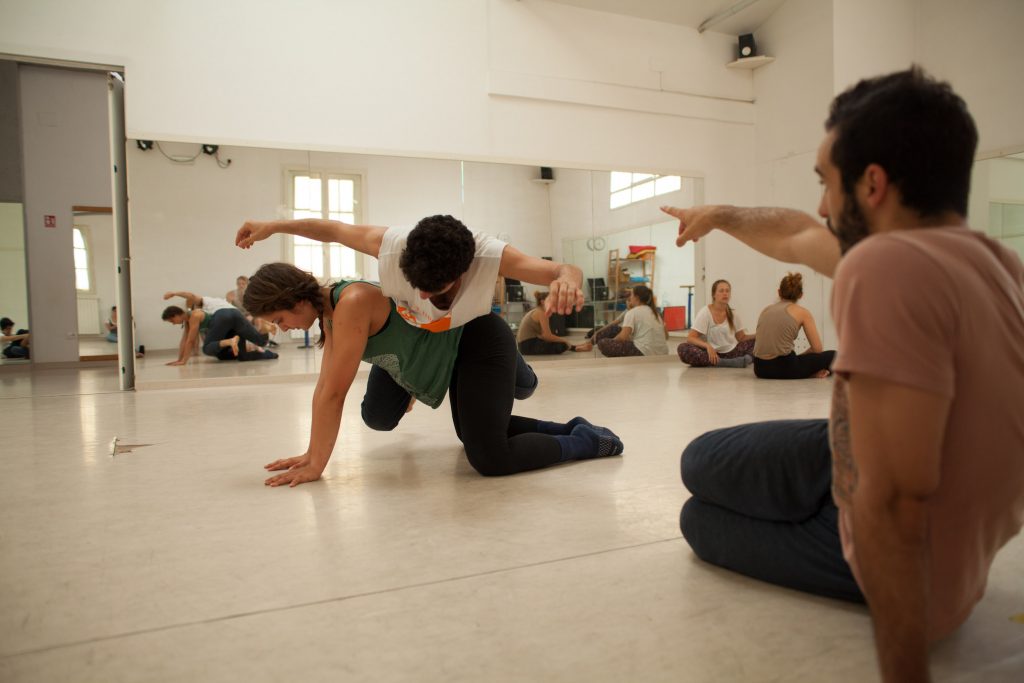 OpenFLR is an intensive dance lab in which internationally acclaimed choreographers work with recent graduates and professional dancers.
OpenFLR provides the space for each choreographer to experiment and investigate their practice. By working with the dancers five hours a day, they create a work in progress to be presented at the end of the lab. This will be a fantastic opportunity for young professionals to experience and dive in a choreographic process, to learn new material, to be creative and collaborate with established choreographers. A brief but unique professional experience!
OPENFLR aims to create an exchange platform between young and experienced dancers, between choreographers and young professionals from different backgrounds, to broaden and deepen curiosity into dance and to enrich personal knowledge with new experiences.
OpenFLR 2016: Guido Sarli
OpenFLR 2015: David Hernandez
OpenFLR 2018: Sebastien Perrault
OpenFLR 2018 YT: Joao Cidade
OpenFLR 2014: Natalia Horecna
OpenFLR 2014: Edan Gorlicki
OpenFLR 2018: Dunja Jocic
OpenFLR 2017 YT: Dorotea Saykaly
OpenFLR 2015: Keren Rosenberg
OpenFLR 2014: Riccardo Meneghini
OpenFLR 2016: Fernando Troya
OpenFLR 2018: Uri Shafir
OpenFLR 2016: Manuel Ronda
OpenFLR 2016: Rosalba Torres Guerrero
OpenFLR 2016 YT: Elisa Zuppini
OpenFLR 2017: Christopher Evans
OpenFLR 2017: Shumpei Nemoto
OpenFLR 2015: Joeri Dubbe

Who are we?
Open FLR was born in 2013 out of the passion and creative output of a group of professional dance practitioners, each of which honed their skills and nurtured their careers abroad. From this enthusiasm the association devised contemporary dance workshops, choreographic seminars and performance events in Florence (Italy).
In an attempt to respond to the lack of professional opportunities for local dance artists, OpenFLR laid the foundations for a long-term project as an exchange platform in which European contemporary dancers can interact and exchange skills with recent graduates and young Italian professionals.
What is the project?
The series of activities held in 2013 and 2014 encountered a fertile ground for development and exchange. OpenFLR hosted over 60 teachers, dancers, and choreographers from different countries and areas of the contemporary dance world, organising a series of workshops throughout 2013/2014 culminating in a Choreographic Summer Intensive held in July 2014 that presented and premiered three brand new commissions by Natalia Horecna, Edan Gorlicki and Riccardo Meneghini.
Participants and organizers agreed on the strong potential of this event and therefore want to invest in a new edition for 2015, which saw 30 participants creating and performing the new works of Keren Rosenberg, David Hernandez and Joeri Dubbe.
The 2016 edition of OpenFLR took place in Florence, from the 2nd till the 20th of July, hosting the exceptional choreographers Rosalba Torres Guerrero, Manuel Ronda, Guido Sarli, Fernando Troya and a young emerging choreographer (Elisa Zuppini).
2017 saw Florence invaded by the wonderful energy of Shumpei Nemoto, Christopher Evans, Jasmine Ellis and emerging choreographer Dorotea Saykaly.
How does it work?
The aim of OpenFLR is to offer an educational professional opportunity, with high professional standards, for a very accessible cost. Participants spend fourteen days together in a dance lab led by internationally acclaimed choreographers. The days will consist of workshops to allow the dancers to meet the choreographers and vice versa. On the third day the participants will be divided in three different groups and start a new creative process with one of the choreographers.