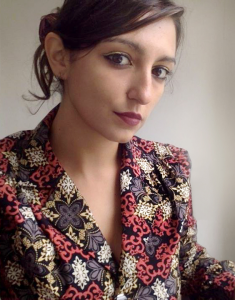 Elisa Zuppini was born in Italy (Ascoli Piceno) in 1990, where she started her studies in dance since her young age.
After she graduated in the Ballet method RAD in 2004 and having studied modern and contemporary dance she was selected as soloist for two productions directed by ATERBALLETTO for young dancers. From 2007 to 2011 she attended professional trainings in contemporary dance and performing art in different contexts in the cities of Teramo and Florence (IT).
From 2012 to 2014 she has joined the dance company Maktub noir directed by Pietro Pireddu and Valentina Fruzzetti for the creations 'Crazy light moon', 'Green Day', 'Bring me' and 'What the hell is performing art?'.
In 2014 she started her independent choreographic research that brought her to follow specific workshops in different countries in Europe investigating around the topic of 'fragmented bodies'. In that period she created her first choreographic work 'Room Xelle' that she presented in different contexts in Tuscany. In the same year she moved to Portugal where she attended an intensive studies in choreography under the direction of Companhia Instavel. In this occasion she created and presented two choreographic works 'Let's' and 'Take away' , in Teatro Campo Alegre (Porto,PT).
Elisa is currently studying at SNDO (School for New Dance Development) in Amsterdam where she is evolving and defining her research together with the production of new works including the last of these 'Over the East, Near the West'.