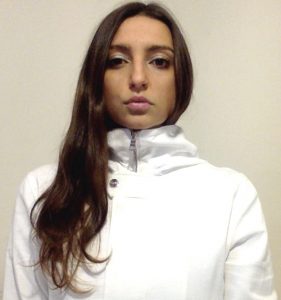 Elisa Zuppini is an Italian dancer and choreographer based in Amsterdam. Her background is strongly signed by a technical and experimental training in dance of which she made experience in Italy (Ascoli Piceno, Teramo, Florence, Rome) and abroad (Belgium, Austria, Turkey, India, France, Portugal, Netherland).
The experience in the dance company Maktub noir directed by Pietro Pireddu and Valentina Fruzzetti (2012 Florence, It) will lead to her own choreographic research from 2014 on.
At the moment she is in her 4th year study at SNDO where she is developing a singular vision of dance.
Her work is rigorously focused on the exploration of movement qualities through an idea of body which is inorganic, unbounded, multiple in parts – each with independent agency of self- organization-. The body, in its multiplicity, enter in an hypersensitive state of relation with human and non-human factors (sensation perceived as a factor in itself) so designing time and space. Lately she has also been interested in the dialog with history of dance, in specific ballet, and how shapes can manifest from a different source.
She presented her work at: Dansmakers (Amsterdam,Nl), Gelderland fabriek (Culemborg, NL); VRJIDAG (Groeningen, NL); Villa Strozzi (Florence, IT); Theaterschool (Amsterdam, NL); Veem House for Performance (Amsterdam, NL); Baudhuis Theater (Amsterdam, NL); Teatro Campo Alegre (Porto, PT); Magma Events (Florence, IT).