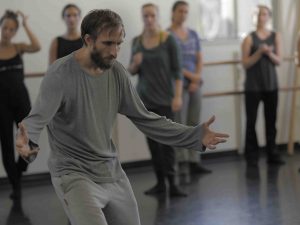 Christopher began his career with the Hofesh Shecter Company.  Since 2006 he has been one of it's original company members, making and touring Internationally.  His relationship to the work has always been strengthened through leading workshops and intensives  worldwide.
During this time he has also worked with Jonathan Lunn to make "Reading Rooms" 2009, a dance/text interplay working with Alan Rickman, Juliet Stevenson, and Miranda Richardson.In 2011 he later joined Lost Dog,  Dance Theatre Company, (Ben Duke) co-devising "It Needs Horses", winner of the Bloomburg Place Prize award .
Chris has now been a core member of Gecko Theatre since 2009 as a co-writer and performer on Missing, Institute, Time of your Life and a new creation "Wedding" premiering 2017.
Chris still continues a creative relationship with Hofesh Shechter, and has joined him as associate choreographer on many projects including The New York Metropolitan Opera 2013 creation "Two Boys", the NDT 2016 creation "Clowns" and Broadways's "Fiddler on the Roof" 2016.
Christopher continues to venture further into his own work, co-creating a production in Shanghai  called "The Dreamer" with Gecko's Associate Director Rich Rusk.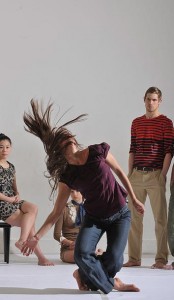 Rachele graduated from CODARTS (Rotterdam Dance Conservatory) and then soon after relocated to London where she joined Edge11 directed by Jeanne Yasko.
Since then she has been working as a dancer and a physical theatre performer in the UK as well as in Sweden, Israel and Ireland with a range of choreographers and companies such as Lost Dog (Ben Duke), Protein Dance, ilDance (Israel Aloni), Clod Ensemble, Gwyn Emberton Dance, Emma Martin, Theo Clinkard, Quang Kien Van, Emanuel Gat, Jorge Crecis, Jose Agudo, Neus Gil Cortes among others.
Since 2015 she has also been developing as a teacher, assistant and rehearsals director and achieved an MA degree in Performing Arts.
The class:
"The bulk of our classes are structured as a guided improvisation.  Each class will have a different main focus.  This idea gets is 'tested out' as guided exploration,  solo improvisation, through light contact and partnering , and finally through phrases of movement.
The improv based structure of my class is influenced by my training with
Hofesh Shechter company, while there are elements of class that come
more from Physical Theatre, along with Rachele's rich experience of
generating and exploring movement.
The aim of every class is to heighten detail and articulation in the
body, while encouraging the dancer to think physically.
There will surely be some phrasing from Hofesh 's past rep, as a way of
workshoping the particular idea of the class."
Save