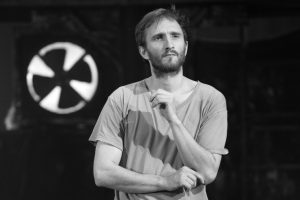 Christopher began his career with the Hofesh Shecter Company.  Since 2006 he has been one of it's original company members, making and touring Internationally.  His relationship to the work has always been strengthened through leading workshops and intensives  worldwide.
During this time he has also worked with Jonathan Lunn to make "Reading Rooms" 2009, a dance/text interplay working with Alan Rickman, Juliet Stevenson, and Miranda Richardson.In 2011 he later joined Lost Dog,  Dance Theatre Company, (Ben Duke) co-devising "It Needs Horses", winner of the Bloomburg Place Prize award .
Chris has now been a core member of Gecko Theatre since 2009 as a co-writer and performer on Missing, Institute, Time of your Life and a new creation "Wedding" premiering 2017.
Chris still continues a creative relationship with Hofesh Shechter, and has joined him as associate choreographer on many projects including The New York Metropolitan Opera 2013 creation "Two Boys", the NDT 2016 creation "Clowns" and Broadways's "Fiddler on the Roof" 2016.
Christopher continues to venture further into his own work, co-creating a production in Shanghai  called "The Dreamer" with Gecko's Associate Director Rich Rusk.