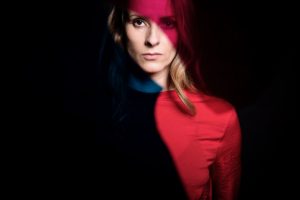 Dunja Jocic is a Serbian/Dutch choreographer. She was born in Belgrade ( ex Yugoslavia) in 1978 to a family of filmmakers. She was a rhythmic gymnastics vice champion and a member of Yugoslav Olympic team.

Dunja graduated Rotterdam Dance Academy in 2002 and has danced with distinguished directors and dance companies, Club Guy and Roni and Emio Greco /PC (Netherlands), Ballet du Nord (France), Saskia Bodekke and Peter Greenaway to mention but a few. For her performance in "Midnight Rising" by Club Guy and Roni, Dunja Jocic was nominated for a Golden Swan in 2013.
Jocic started her choreographic / directing career in 2007 with a dance piece No flowers, please, that lead to a full-length production Not me in co-production with Grand Theatre in Groningen. She has been creating in different medias, for both stage and film, collaborating with artists, composers, and designers. For her first dance film Mirroring she choreographed and co directed with Marinus Groothof, she received Best Dance Film price at the Hong Kong (China) Jumping Frames Film Festival. (pls. see full bio for all the awards). Her second film Bird premiered at the Netherlands Film Festival and was in the competition for the Golden Calf. The film was also shown at the film forum at the Museum Ludwig in Cologne (Germany) and was awarded the Cinedance Public Award in Amsterdam (Netherlands) in 2016.

In 2012 she was commissioned to choreograph Shakespeare Sonnet 66 for the Bitef Dance company in Belgrade (Serbia).
Dunja also had the pleasure of collaborating as a choreographer/director with the composer Klaas de Vries and the mezzo-soprano Gerrie de Vries on the Hundred nights, Hundred years opera (composed by Klaas de Vries, libretto by Gerrie de Vries) that premiered at the Musica Sacra (2013) in Maastricht (Netherlands) conducted by Gregory Charette.
In 2015 Jocic choreographed Don't talk to me in my sleep, loosely based on the relationship of Andy Warhol and his mother Julia, with the text by Barbara Markovic, composed by Hugo Morales. The production premiered at the Nordernzoone Theater Festival in Groningen and has toured in the Netherlands and abroad.
Dunja Received the BNDG Bank price for Excellent Talent in the same year.
In 2016 Jocic choreographed La Mode, a multimedia piece directed by Tomoko Mukaiyama with Spellbound Contemporary Ballet (Rome). La Mode Inaugurated Taichung Metropolitan Opera House and was composed by Yannis Kyriakides with the set design by acclaimed architect Toyo Ito.
Her last production Terra Incognita produced by Korzo Productions premiered at the Ca Dance Festival in The Hague (Netherlands) in 2017. Based on Nabokov's short story of the same name Jocic created an intense fast paced, psychedelic dance piece in a vastness of an abstract murky desert composed by Hugo Morales.
Jocic´s work has been showed in theaters like Stadsschouwburg Rotterdam, The Grand Theater in Groningen, Bellvue Theater in Amsterdam, Utrecht Stadsschouwburg in Netherlands, Taichung Metropolitan Opera House in Taiwan, Serbian National Theater in Belgrade and Festivals like Nederlandse Dansdagen in Amsterdam (Netherlands), Dance New Air festival in Tokyo (Japan), Trans Art Festival in Bolzano (Italy) and Temps d´ Aimer la Dance in Biarritz (France).
She lives and works in Amsterdam (Netherlands).