OpenFLR 2018 is an intensive dance lab in which three internationally acclaimed choreographers (Dunja Jocic, Sebastien Perrault and Uri Shafir)  and an emerging talent (***Update  – OpenFLR Young Talent 2018 is João Cidade) will work with recent graduates and professional dancers for two weeks. It will take place in Florence, from the 2nd till the 17th of July 2018.
During this time, each choreographer will devise a new piece for the participants.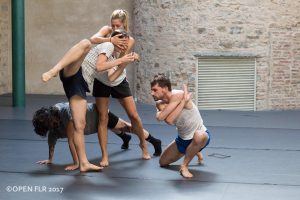 After an initial day of meet and greet and professional seminars, for the following four days each choreographer will lead a half-day workshop, for her/him to get to know the participants and viceversa. Each choreographer will then select the participants she/he wishes to work with for the creative process, that will take place until the final presentation.
Throughout the workshop, participants will be offered two daily warm-up classes to prepare to work with the choreographers (techniques and teachers TBA).  The warm-up classes are also open to professional dancers/ recent graduates who are not participating to the creative processes.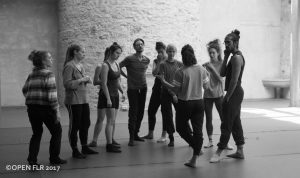 Following the success of the previous editions, a group of local dance professionals will organise and lead an extra performance for the participants of OpenFLR. This improvisation performance will take place in the streets of Florence, and it will happen half-way the intensive.
OpenFLR 2018 will culminate in a final presentation, held in a theatre in Florence on the 17th July 2018, and open to the public.
Program:
TBA
Pricing and Scholarships:
Also this year OpenFLR offers a number of partial scholarships, to help talented practitioners to participate to this unique opportunity. The scholarships exist because of our generous partners and sponsors. If you would like to be considered for a scholarship, please tick the appropriate box in the application form.
Opting in for a scholarship will be possible until 15th April 2018 at 20:00 (CET).
Scholarship recipients will be announced 22nd April 2018.
OpenFLR 2018
* (+7.50 EUR Banking Fee)
Morning Classes
Choreographers' Workshops
Creative Process
Site Specific Performance
Final Presentation
Civic Insurance
Photos (in digital format)
APPLY
OpenFLR is proud to collaborate with and be sustained by:
Save