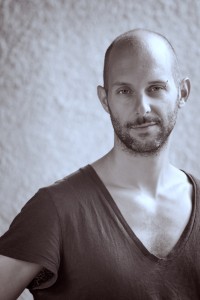 Born in 1980 in Italy, in 2004 he finished his MA studies in Foreign Languages and Literature at the University of Padua. He started studying dance in Padua with C. Di Napoli. In 2006, he was invited to join the Rotterdam Dance Academy (Codarts) where in 2008 he obtained a BA of Dance. Between 2007 and 2008 he was awarded the prestigious scholarship of the Pierino Ambrosoli Foundation. After graduating he worked for two years for De Stilte Dance Company (The Netherlands). Looking for different experiences and inspiration, he decided to start working as a freelancer dancer.
In his career he had the opportunity to dance in choreographies by W. Forsythe, N. Duato, B. Caverna, G. Maiorino, T. Stuart, J. Lunn, W. Lu, O. Maciejewska, M. Schumacher, D. Paiva, J. Timmermans, S. Van der Put, D. Desnoyes, S. Gillen, M. Bucar, K. Brandstrup, G. Stkrela, K. Rosenberg, N. Horecna and many others. He's worked in productions directed by directors such as Audi, Alden, Kosky, Pelly, Carsen, Olle', Loy. In 2012, he worked as assistant director for Simon Mcburney's production of the Magic Flute by Mozart at the Dutch NAtional Opera and Ballet.
He dances for istitutions such as Theater L/V, Korzo Theater, ITS Festival, Lucent Danstheater, Rotterdamse Schouwburg, De Musiektheater.
In 2005 he started teaching for Laboratorio Internazionale della Comunicazione together with M. Eugenia Demeglio.
In 2012 he brings his solo What then if about to the performance festival Lucky Trimmer in Berlin.
He teaches modern dance and improvisation in Kracow, Padua, Rotterdam, Florence and Gemona del Friuli. In 2012 he started his collaboration with De Nationale Opera Academy in Amsterdam as a movement teacher.
He has started OpenFLR with Valeria and Rachele in 2013.
Save